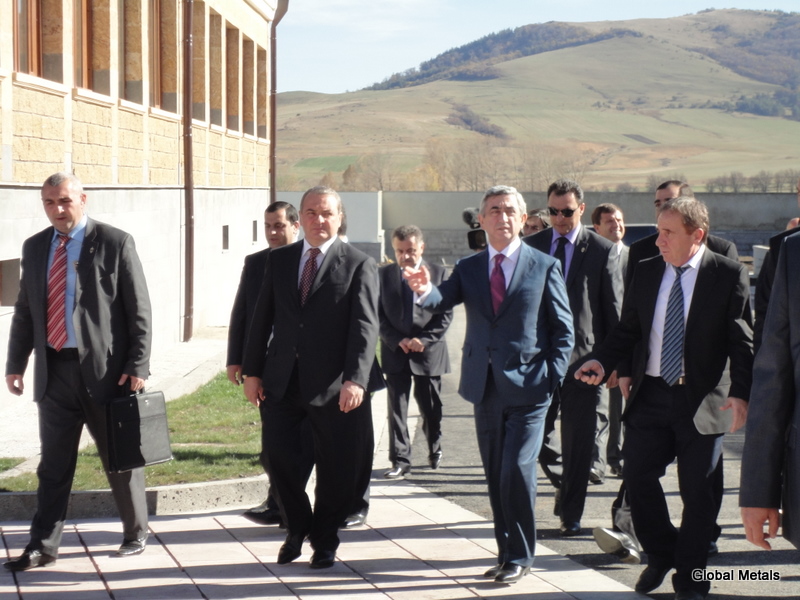 07/11/2010 01:43
President Of Armenia Visited SAGAMAR CJSC
Today President Serzh Sargsyan  visited  Armanis Concentrator, located  near town of Stepanavan, Lori marz.
In the administrative building of "Sagamar" CJSC, President Sargsyan was introduced to the works and future projects of Investment Group, which has been developing Armanis gold-polymetallic and  Dastakert copper-molybdenum deposits since 2007, through two ventures in the mining industry: "Sagamar"CJSC and  "Molibdeny Ashxarh" LLC, being managed by GLOBAL METALS (ARM) Limited Company Armenian Branch in Yerevan, Armenia.
GLOBAL METALS (ARM) Limited Armenian Branch Director Garen Ghazaryan informed journalists that the plant will employ around 500 workers and import special purpose filtering stations of Canadian and German manufacture.
The Group's overall investments in Armenian projects are expected to reach $100 million, and about 1000 new jobs will be created.
COMEX
$/tr.oz
+/-
Gold
1857.70
-0.37%
Silver
21.94
-2.01%
Platinum
906.80
+0.19%
LME 3m
$/t.
+/-
Aluminium
2342.00
+3.40%
Copper
8282.00
+1.39%
Nickel
18825.00
-0.26%
Tin
24450.00
-4.49%
Lead
2183.00
+0.83%
Zinc
2650.00
+2.73%
Molybdenum
55630.00
+0.00%
Cobalt
33420.00
+0.00%

Updated: 10:00 02/10