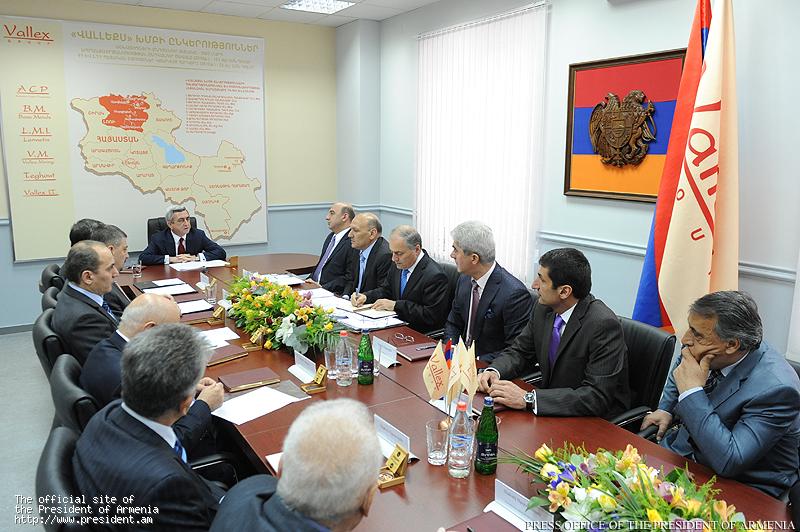 28/04/2011 03:01
President Serzh Sargsyan Held A Meeting With Top Managers Of Mining Companies Of Armenia
Today President Serzh Sargsyan invited a meeting at the administrative office of Vallex Group, which was attended by the managers and owners of the mining companies operating in Armenia.
According to President Serzh Sargsyan, mining is one of the most important industries of the Armenian economy. Several large companies that are also major taxpayers are engaged in mine exploration and concentrate production in Armenia.
During the discussion of development programs for the mining industry, managers and owners of mining companies informed the President, that in two or three years they would double their production, which would result in a double increase in taxes and at least 70-80% increase in additional jobs created.
Mr. Garen Ghazaryan, Director of GLOBAL METALS (ARM) Limited Company Armenian Branch, informed journalists that the company has invested a total of $110 million in Armenian mining industry and plans to invest another $100 million.
"We also plan to put Armanis Concentrator into operation and have already invested $63 million in the project," he said.
COMEX
$/tr.oz
+/-
Gold
1857.70
-0.37%
Silver
21.94
-2.01%
Platinum
906.80
+0.19%
LME 3m
$/t.
+/-
Aluminium
2342.00
+3.40%
Copper
8282.00
+1.39%
Nickel
18825.00
-0.26%
Tin
24450.00
-4.49%
Lead
2183.00
+0.83%
Zinc
2650.00
+2.73%
Molybdenum
55630.00
+0.00%
Cobalt
33420.00
+0.00%

Updated: 10:00 02/10